ANALISA PENGARUH NON PERFORMING LOAN ( NPL ), BOPO DAN NET INTEREST MARGIN ( NIM ) TERHADAP RETURN ON ASSET ( ROA ) PADA BANK PERKREDITAN RAKYAT KONVENSIONAL DI JAWA TIMUR
Keywords:
NPL, BOPO, NIM, ROA.
Abstract
This research was conducted at Conventional Rural Bank in East Java period 2009-2012. The purpose of this research is to know the influence of Non Performing Loan (NPL), BOPO, Net Interest Margin (NIM) to Return On Asset (ROA) with sample of 30 banking companies. Problem solving using multiple linear regression analysis techniques. Based on the results of the analysis it is known that the NPL has a significant effect on profitability (ROA). BOPO has a significant effect on profitability (ROA), and NIM has a significant positive effect on profitability (ROA).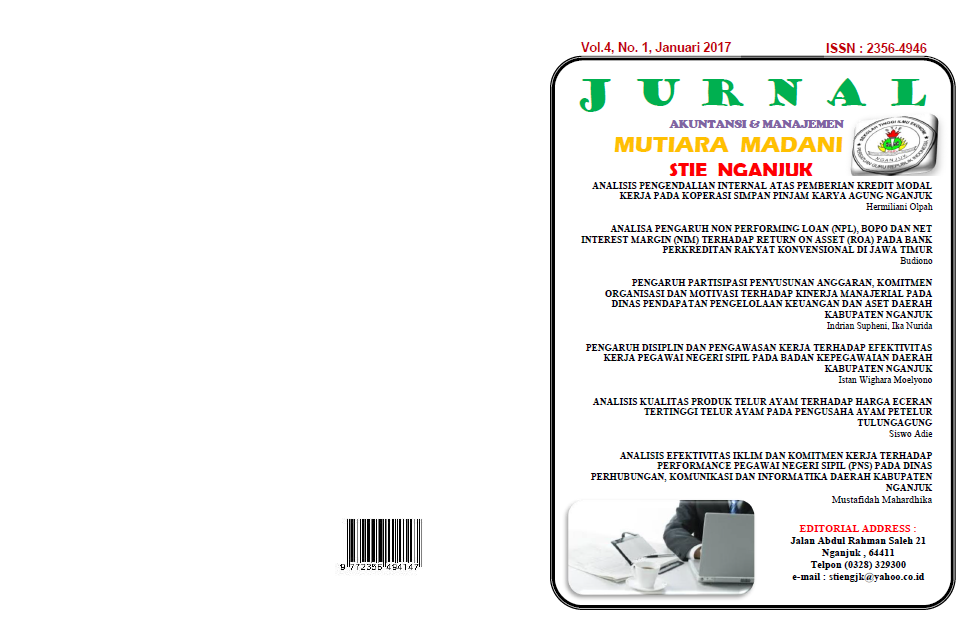 Penulis yang menerbitkan jurnal ini setuju dengan persyaratan berikut:
1. Penulis mempertahankan hak cipta dan memberikan hak jurnal tentang publikasi pertama dengan karya yang secara bersamaan dilisensikan di bawah Creative Commons Attribution License yang memungkinkan orang lain membagikan karya tersebut dengan pengakuan dari karya penulis dan publikasi awal dalam jurnal ini.
2. Penulis dapat memasukkan pengaturan kontrak tambahan yang terpisah untuk distribusi non-eksklusif dari versi terbitan jurnal tersebut (misalnya, kirimkan ke repositori institusional atau publikasikan dalam sebuah buku), dengan sebuah pengakuan atas publikasi awalnya di Jurnal ini
3. Penulis diijinkan dan didorong untuk memposting pekerjaan mereka secara online (mis., Di repository institusional atau di situs web mereka) sebelum dan selama proses penyampaian, karena dapat menyebabkan pertukaran yang produktif, serta kutipan karya yang diterbitkan sebelumnya