ANALISIS PENGENDALIAN INTERNAL ATAS PEMBERIAN KREDIT MODAL KERJA PADA KOPERASI SIMPAN PINJAM KARYA AGUNG NGANJUK
Keywords:
Internal Control, Working Capital Loan
Abstract
Medium and small industries become one of the strengths in realizing the development and economic aspects to increase productivity and expansion. Capital problems faced include capital aspects, business financing problems, capital accumulation problems, and how to utilize facilities in the framework of the implementation of its business. The security issue of credit given is a problem that the cooperative must pay attention to because of the risks arising from the crediting system. This problem can be avoided by the existence of an adequate internal control in the field of credit.
This study aims to find out how the internal control over the provision of Working Capital Credit applied Savings and Loan Cooperative Karya Agung Nganjuk. In research conducted, the authors analyze the data by using descriptive method. While the data types used are primary data and secondary data. The data collection techniques used are documentation and interview techniques with the credit administration.
After conducting internal control research on the provision of working capital credit, the authors get the conclusion, namely: that the procedure of crediting in Cooperative Save Loans Work Agung Nganjuk already follow the standard lending procedures established and assist the process of crediting at Cooperative Save Loans Work Agung Nganjuk. However, the credit granting procedure in the Ngempuk Agung Karya Pinjam Cooperative is still very simple, so there are some shortcomings in the steps and the distribution of functions in crediting procedures so that the credit granting procedure in the Cooperative Save Pinjam Karya Agung Nganjuk becomes easier than the standard crediting procedure Set.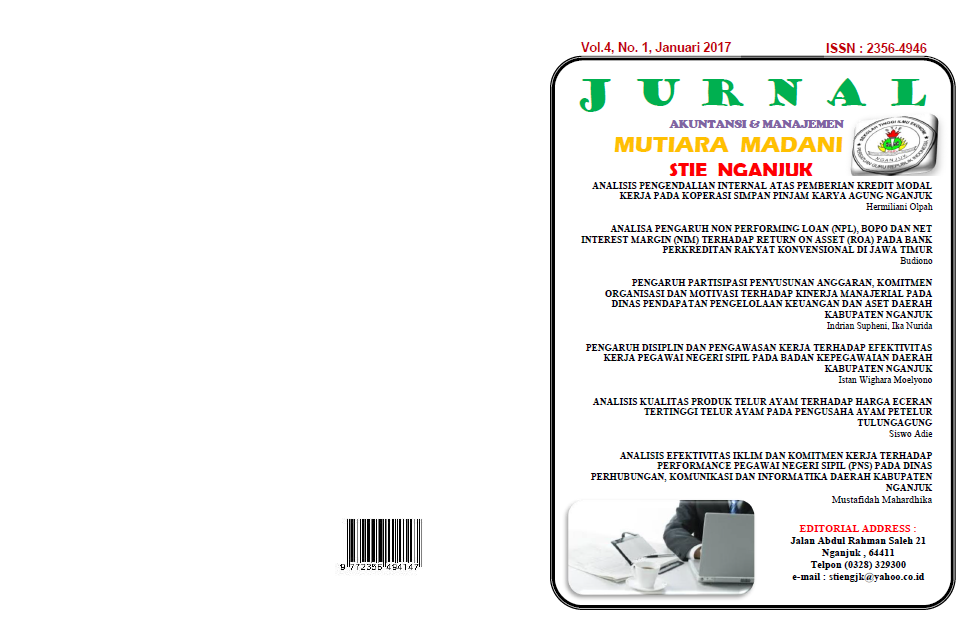 Penulis yang menerbitkan jurnal ini setuju dengan persyaratan berikut:
1. Penulis mempertahankan hak cipta dan memberikan hak jurnal tentang publikasi pertama dengan karya yang secara bersamaan dilisensikan di bawah Creative Commons Attribution License yang memungkinkan orang lain membagikan karya tersebut dengan pengakuan dari karya penulis dan publikasi awal dalam jurnal ini.
2. Penulis dapat memasukkan pengaturan kontrak tambahan yang terpisah untuk distribusi non-eksklusif dari versi terbitan jurnal tersebut (misalnya, kirimkan ke repositori institusional atau publikasikan dalam sebuah buku), dengan sebuah pengakuan atas publikasi awalnya di Jurnal ini
3. Penulis diijinkan dan didorong untuk memposting pekerjaan mereka secara online (mis., Di repository institusional atau di situs web mereka) sebelum dan selama proses penyampaian, karena dapat menyebabkan pertukaran yang produktif, serta kutipan karya yang diterbitkan sebelumnya