PUBLIC-PRIVATE PARTNERSHIP DALAM PENGELOLAAN MUSEUM RADYA PUSTAKA SURAKARTA KOTA SURAKARTA
Siswanta Siswanta

Aris tri Haryanto
Keywords:
Public, Private, Partnership, Management Museum.
Abstract
This study aims to reveal a development model based on the Public Private Partnership of the Tourism Office of Surakarta city partnerships with the private sector in the management of museum Radya Pustaka Surakarta. The research starts with doing the observations on society to unearth information about the concern of the community to the existence of Museum Radya Pustaka and formulate the expectations and needs of those associated with the existence of the museum. Departing from primary data obtained from key informants who know exactly about the problems of the management of the Museum RadyaPustaka, primary data collection was more focused on aspects of the efficiency of the management and distribution of its benefits. From key informant research, dig another important information particularly information related to the competence of private parties who became a partner of local government in this case Tourism cooperation related to the management of Surakarta Museum Radyapustaka. The data collected from the results of intensive interviews with local communities, private parties as partners of the Government in the management of the museum, as well as data derived from the Tourism Office of Surakarta, tested validitasnya before the data be analyzed in accordance with the rules of qualitative research. Based on primary data and supporting data that had already been through a verification process at each stage of the research, the results of the study indicate that partnership cooperation between Radyapustaka with stakeholders is more based on the concern of the Agency – governmental institutions towards the heritage museum. Motivation partnership cooperation in no way profit oriented even though such cooperation is carried out by professional institutions in the business world. In contrast to the principle of Public Private Partnership as is happening in some institutions in General, in the case of Radyapustaka aspects of efficiency, professionalism of management, the basic balance of costs and benefits is not a factor that encourages the occurrence of public sector partnership and private.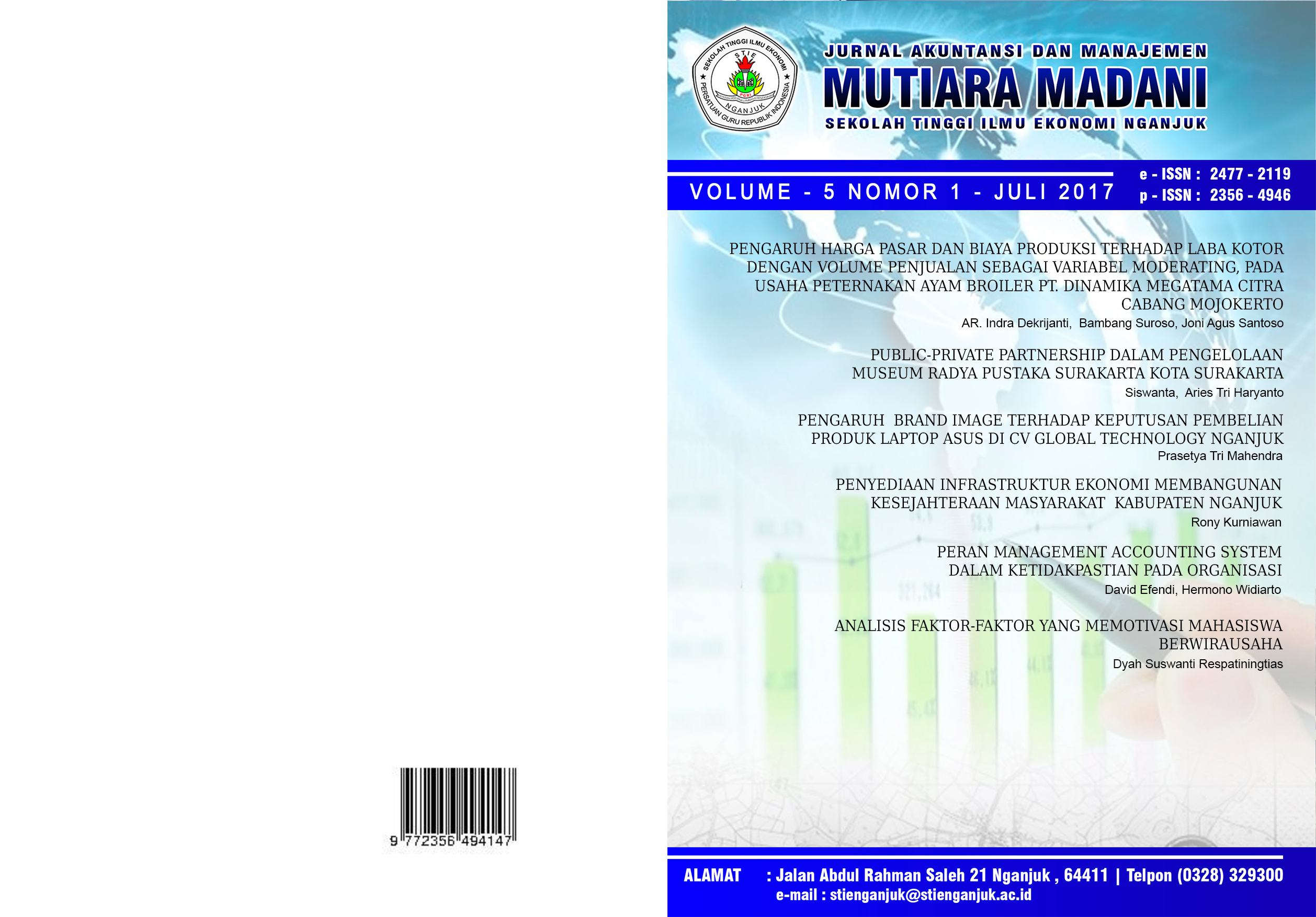 Penulis yang menerbitkan jurnal ini setuju dengan persyaratan berikut:
1. Penulis mempertahankan hak cipta dan memberikan hak jurnal tentang publikasi pertama dengan karya yang secara bersamaan dilisensikan di bawah Creative Commons Attribution License yang memungkinkan orang lain membagikan karya tersebut dengan pengakuan dari karya penulis dan publikasi awal dalam jurnal ini.
2. Penulis dapat memasukkan pengaturan kontrak tambahan yang terpisah untuk distribusi non-eksklusif dari versi terbitan jurnal tersebut (misalnya, kirimkan ke repositori institusional atau publikasikan dalam sebuah buku), dengan sebuah pengakuan atas publikasi awalnya di Jurnal ini
3. Penulis diijinkan dan didorong untuk memposting pekerjaan mereka secara online (mis., Di repository institusional atau di situs web mereka) sebelum dan selama proses penyampaian, karena dapat menyebabkan pertukaran yang produktif, serta kutipan karya yang diterbitkan sebelumnya