PUBLIC-PRIVATE PARTNERSHIP DALAM PENGELOLAAN MUSEUM RADYA PUSTAKA SURAKARTA KOTA SURAKARTA
Siswanta Siswanta

Aris tri Haryanto
Keywords:
Public, Private, Partnership, Management Museum.
Abstract
This study aims to reveal a development model based on the Public Private Partnership of the Tourism Office of Surakarta city partnerships with the private sector in the management of museum Radya Pustaka Surakarta. The research starts with doing the observations on society to unearth information about the concern of the community to the existence of Museum Radya Pustaka and formulate the expectations and needs of those associated with the existence of the museum. Departing from primary data obtained from key informants who know exactly about the problems of the management of the Museum RadyaPustaka, primary data collection was more focused on aspects of the efficiency of the management and distribution of its benefits. From key informant research, dig another important information particularly information related to the competence of private parties who became a partner of local government in this case Tourism cooperation related to the management of Surakarta Museum Radyapustaka. The data collected from the results of intensive interviews with local communities, private parties as partners of the Government in the management of the museum, as well as data derived from the Tourism Office of Surakarta, tested validitasnya before the data be analyzed in accordance with the rules of qualitative research. Based on primary data and supporting data that had already been through a verification process at each stage of the research, the results of the study indicate that partnership cooperation between Radyapustaka with stakeholders is more based on the concern of the Agency – governmental institutions towards the heritage museum. Motivation partnership cooperation in no way profit oriented even though such cooperation is carried out by professional institutions in the business world. In contrast to the principle of Public Private Partnership as is happening in some institutions in General, in the case of Radyapustaka aspects of efficiency, professionalism of management, the basic balance of costs and benefits is not a factor that encourages the occurrence of public sector partnership and private.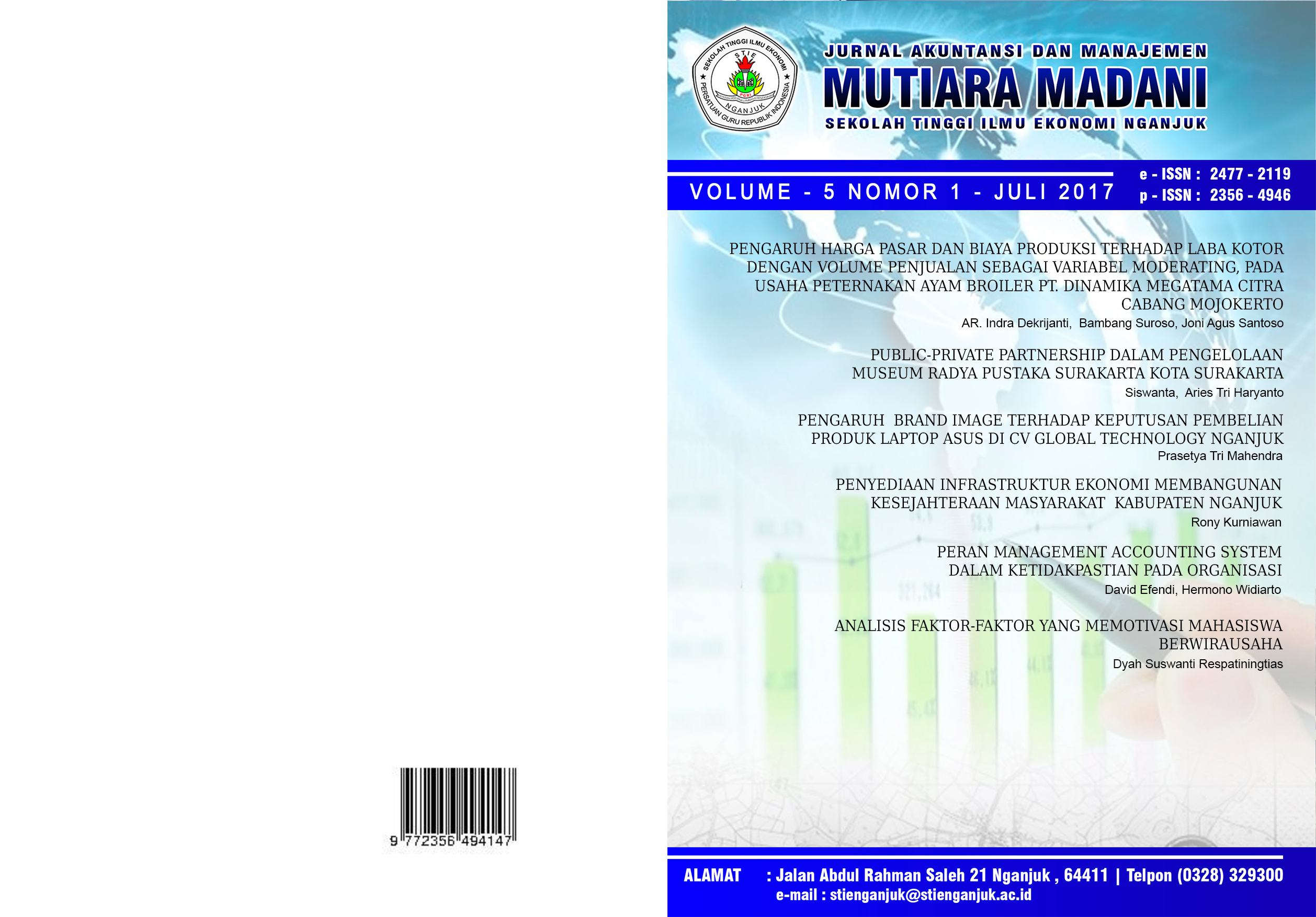 The authors who publish this journal agree to the following conditions:
1. The author retains the copyright and gives the journal rights regarding the first publication with the work being simultaneously licensed under the Creative Commons Attribution License which allows others to share the work with acknowledgment of the author's work and the initial publication in this journal.
2. The author can enter separate additional contractual arrangements for non-exclusive distribution of the published version of the journal (for example, send it to an institutional repository or publish in a book), with an acknowledgment of its initial publication in this Journal.
3. Authors are permitted and encouraged to post their work online (e.g., at an institutional repository or on their website) before and during the submission process, as this can lead to productive exchanges, as well as excerpts of previously published works