3 PENGARUH BRAND IMAGE TERHADAP KEPUTUSAN PEMBELIAN PRODUK LAPTOP ASUS DI CV GLOBAL TECHNOLOGY NGANJUK
Keywords:
Pemasaran, Brand Image, Keputusan Pembelian
Abstract
The problem in this study is the influence of brand image on the decision to purchase Asus laptop products at CV Global Technology Nganjuk. This study aims to determine whether variable brand image affects the purchase decision of Asus laptop products at CV Global Technology Nganjuk. The benefits of this research are to increase the product brand image so that it can compete with other products and add experience in the marketing field, especially in relation to the creation of a good product brand image in the eyes of consumers. The population in this study were consumers of CV Global Technology Nganjuk Sample taken as many as 57 respondents and the technique of taking it using accident sampling technique. Data analysis method used is descriptive quantitative using simple linear regression. The results of the simple regression test equation obtained by Brand Image variable regression coefficient has a positive direction in its influence on purchasing decisions. Where is the relationship between Brand Image and purchasing decisions is the relationship is directly proportional, meaning that the higher the influence of Brand Image the higher the purchase decision by the consumer. Test the hypothesis shows that Brand Image has a significant effect on purchasing decisions. Where from the calculation is obtained the results of the significance test of the regression coefficient with t test that is t count = 28.896 with a significance value of 0.000 <0.05, proving that the Brand Image variable significantly influences the purchase decision. So the hypothesis which states "there is the influence of Brand Image on purchasing decisions on Asus laptop products at Nganjuk Global Technology CV" is accepted.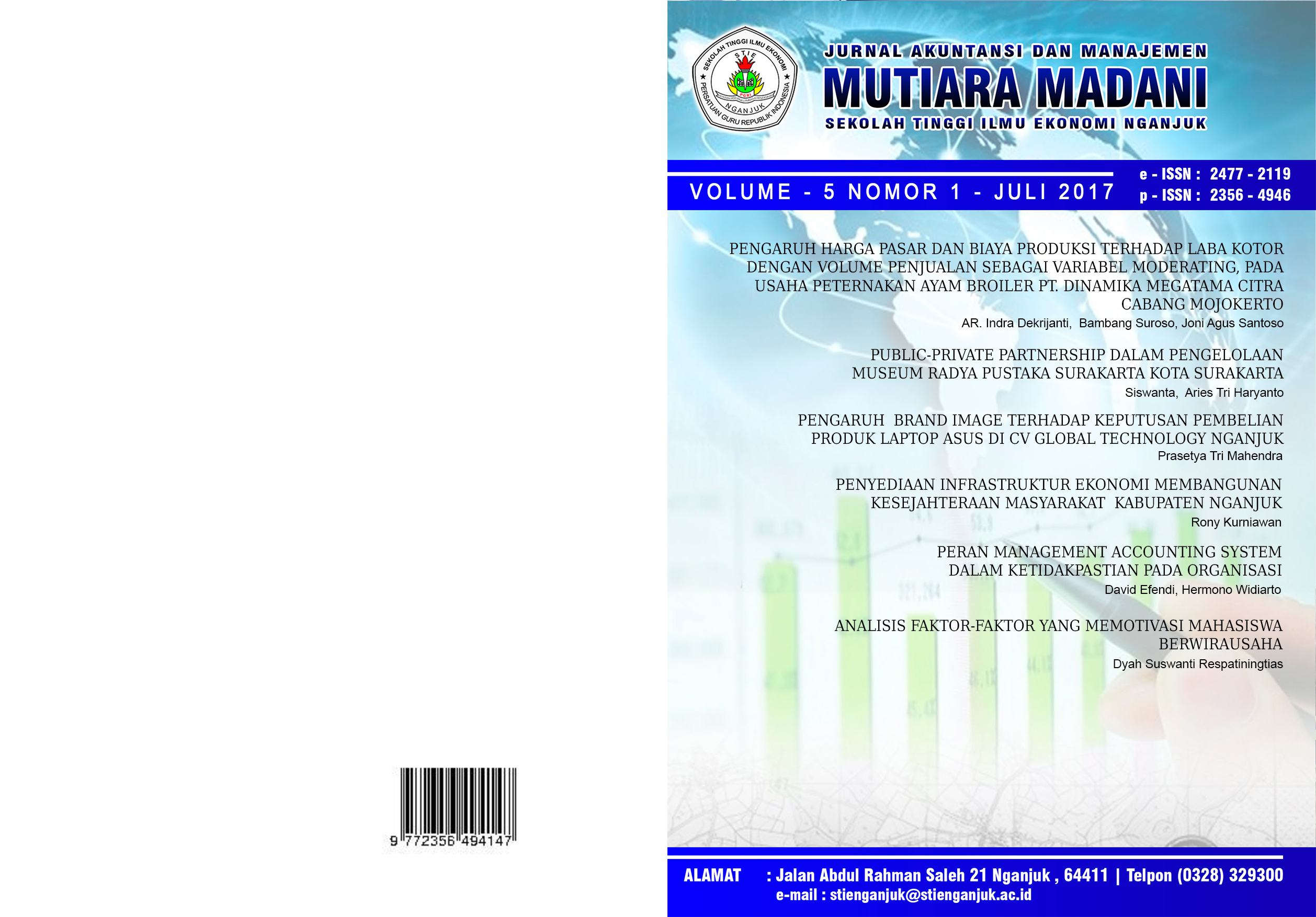 The authors who publish this journal agree to the following conditions:
1. The author retains the copyright and gives the journal rights regarding the first publication with the work being simultaneously licensed under the Creative Commons Attribution License which allows others to share the work with acknowledgment of the author's work and the initial publication in this journal.
2. The author can enter separate additional contractual arrangements for non-exclusive distribution of the published version of the journal (for example, send it to an institutional repository or publish in a book), with an acknowledgment of its initial publication in this Journal.
3. Authors are permitted and encouraged to post their work online (e.g., at an institutional repository or on their website) before and during the submission process, as this can lead to productive exchanges, as well as excerpts of previously published works