3 PENGARUH BRAND IMAGE TERHADAP KEPUTUSAN PEMBELIAN PRODUK LAPTOP ASUS DI CV GLOBAL TECHNOLOGY NGANJUK
Keywords:
Pemasaran, Brand Image, Keputusan Pembelian
Abstract
The problem in this study is the influence of brand image on the decision to purchase Asus laptop products at CV Global Technology Nganjuk. This study aims to determine whether variable brand image affects the purchase decision of Asus laptop products at CV Global Technology Nganjuk. The benefits of this research are to increase the product brand image so that it can compete with other products and add experience in the marketing field, especially in relation to the creation of a good product brand image in the eyes of consumers. The population in this study were consumers of CV Global Technology Nganjuk Sample taken as many as 57 respondents and the technique of taking it using accident sampling technique. Data analysis method used is descriptive quantitative using simple linear regression. The results of the simple regression test equation obtained by Brand Image variable regression coefficient has a positive direction in its influence on purchasing decisions. Where is the relationship between Brand Image and purchasing decisions is the relationship is directly proportional, meaning that the higher the influence of Brand Image the higher the purchase decision by the consumer. Test the hypothesis shows that Brand Image has a significant effect on purchasing decisions. Where from the calculation is obtained the results of the significance test of the regression coefficient with t test that is t count = 28.896 with a significance value of 0.000 <0.05, proving that the Brand Image variable significantly influences the purchase decision. So the hypothesis which states "there is the influence of Brand Image on purchasing decisions on Asus laptop products at Nganjuk Global Technology CV" is accepted.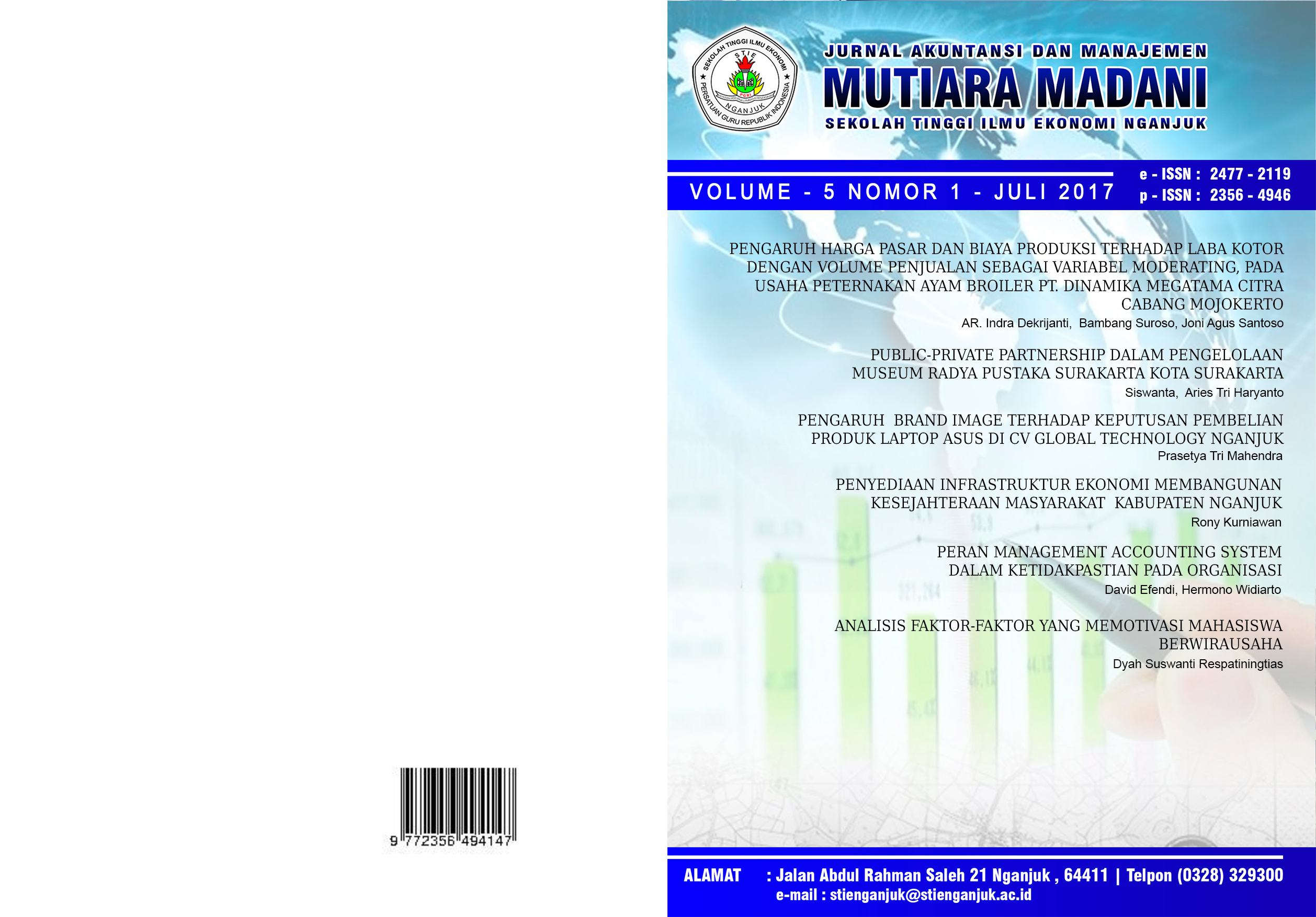 Penulis yang menerbitkan jurnal ini setuju dengan persyaratan berikut:
1. Penulis mempertahankan hak cipta dan memberikan hak jurnal tentang publikasi pertama dengan karya yang secara bersamaan dilisensikan di bawah Creative Commons Attribution License yang memungkinkan orang lain membagikan karya tersebut dengan pengakuan dari karya penulis dan publikasi awal dalam jurnal ini.
2. Penulis dapat memasukkan pengaturan kontrak tambahan yang terpisah untuk distribusi non-eksklusif dari versi terbitan jurnal tersebut (misalnya, kirimkan ke repositori institusional atau publikasikan dalam sebuah buku), dengan sebuah pengakuan atas publikasi awalnya di Jurnal ini
3. Penulis diijinkan dan didorong untuk memposting pekerjaan mereka secara online (mis., Di repository institusional atau di situs web mereka) sebelum dan selama proses penyampaian, karena dapat menyebabkan pertukaran yang produktif, serta kutipan karya yang diterbitkan sebelumnya