PENGARUH PERANAN AUDIT INTERNAL TERHADAP PENERAPAN GOOD CORPORATE GOVERNANCE (STUDI KASUS PADA PG REJO AGUNG MADIUN)
Keywords:
Internal audits, implementation of good corporate governance
Abstract
The role of internal audit will be more reliable in developing and maintaining the effectiveness of the internal control system, risk management and good corporate governance in order to sustain the realization of a healthy company. Good corporate governance practices can enhance corporate value by enhancing financial performance, which may reduce the risk undertaken by the council decisions that benefit themselves.
The purpose of this study was to determine the effect of the role of internal audit of the implementation of good corporate governance in the Great rejo PG Madiun by spreading the core questions to all employees of the Internal Control Unit number 34. The data was compiled and analyzed using the software Statistical Programme for Social Sciences (SPSS) version 17 for windows to calculate the value of the regression, both simple linear regression.
The results obtained from this study indicate that the role of internal audit and a significant positive effect on the implementation of good corporate governance in the Great Redjo PG Madiun as evidenced by the results of a significance value of 0.000 with a simple linear regression equation Y = 15,550 + 0,707X + e.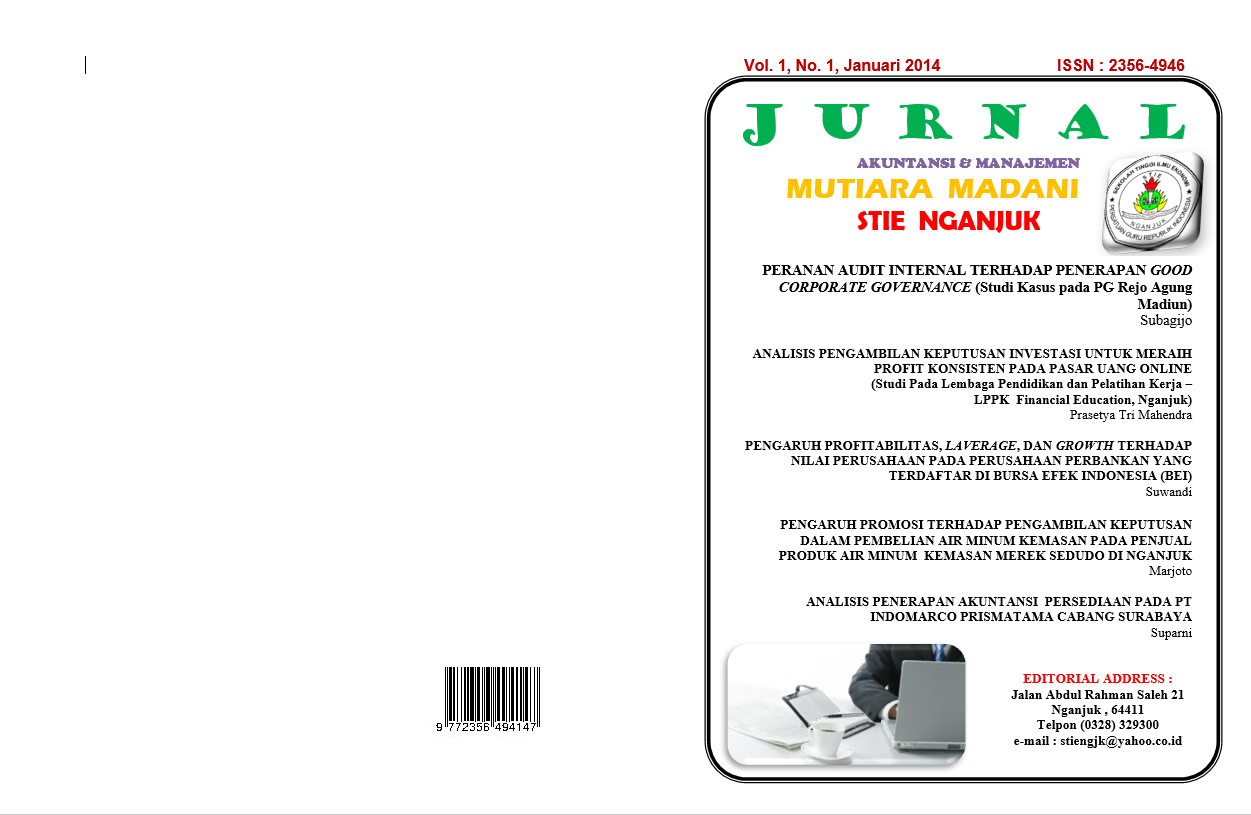 The authors who publish this journal agree to the following conditions:
1. The author retains the copyright and gives the journal rights regarding the first publication with the work being simultaneously licensed under the Creative Commons Attribution License which allows others to share the work with acknowledgment of the author's work and the initial publication in this journal.
2. The author can enter separate additional contractual arrangements for non-exclusive distribution of the published version of the journal (for example, send it to an institutional repository or publish in a book), with an acknowledgment of its initial publication in this Journal.
3. Authors are permitted and encouraged to post their work online (e.g., at an institutional repository or on their website) before and during the submission process, as this can lead to productive exchanges, as well as excerpts of previously published works