ANALISIS PENERAPAN AKUNTANSI PERSEDIAAN PADA PT INDOMARCO PRISMATAMA CABANG SURABAYA
Suparni Suparni

Sekolah Tinggi Ilmu Ekonomi Nganjuk
Keywords:
Inventory, PSAK No. 14, Registration, Assessment Inventory
Abstract
Inventories are assets available for sale in the ordinary course of business, trading company. The main problem in accounting for inventories is the recording and valuation of inventory. This has led the authors to conduct this study was to determine whether the application of accounting policies Indomarco Prismatama inventory at PT Surabaya Branch in accordance with PSAK No. 14.
In this research, the writer uses descriptive method. Authors used data obtained from the DC (Distribution Center) and is the Author of data of 2013 collected data through interviews and documentation studies. The data used are primary data and secondary data. The data obtained are collected, interpreted, and analyzed later described in detail to find out the problems and find penjelasanya.
PT Indomarco Prismatama Surabaya Branch is a company engaged in the retail trade of daily necessities. From the research, the authors saw that PSAK No. 14 has been applied properly. It can be seen from the recording system and method of inventory valuation has been carried out in accordance with accounting principles.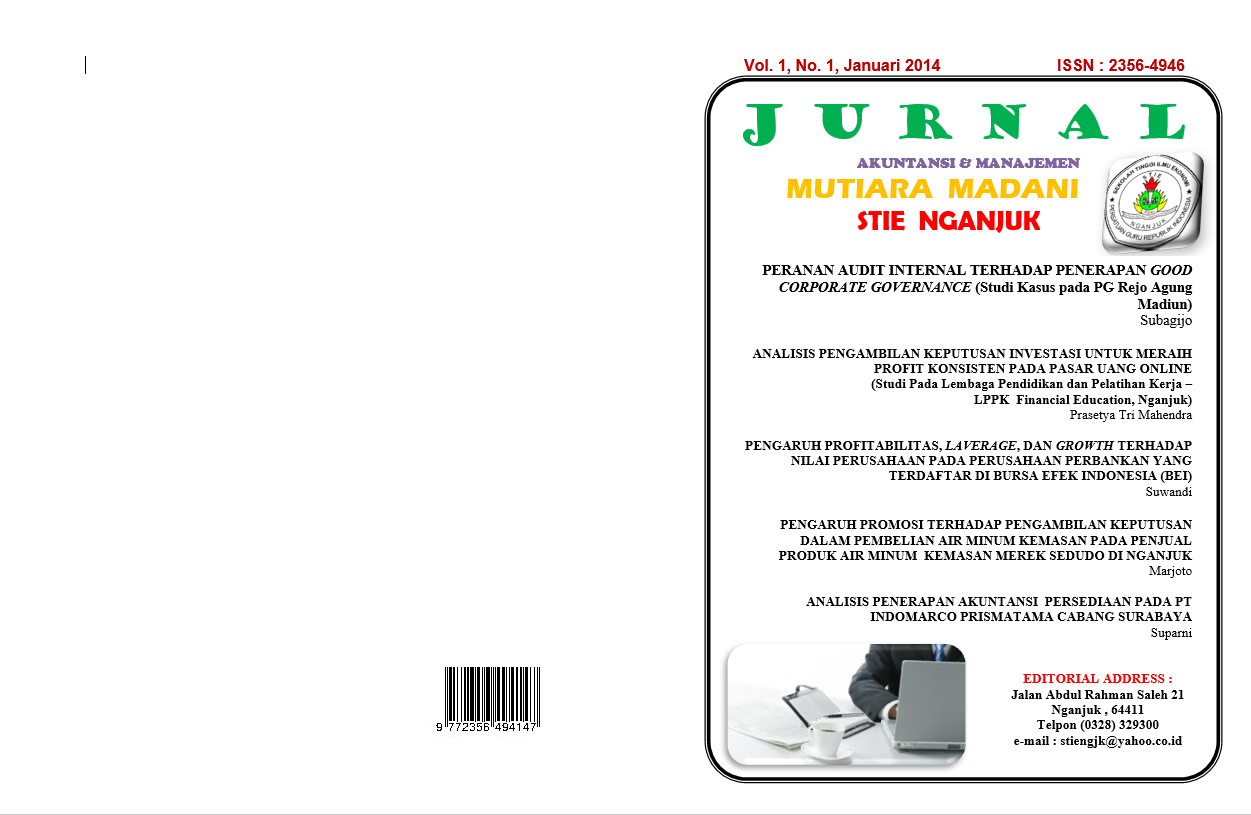 Penulis yang menerbitkan jurnal ini setuju dengan persyaratan berikut:
1. Penulis mempertahankan hak cipta dan memberikan hak jurnal tentang publikasi pertama dengan karya yang secara bersamaan dilisensikan di bawah Creative Commons Attribution License yang memungkinkan orang lain membagikan karya tersebut dengan pengakuan dari karya penulis dan publikasi awal dalam jurnal ini.
2. Penulis dapat memasukkan pengaturan kontrak tambahan yang terpisah untuk distribusi non-eksklusif dari versi terbitan jurnal tersebut (misalnya, kirimkan ke repositori institusional atau publikasikan dalam sebuah buku), dengan sebuah pengakuan atas publikasi awalnya di Jurnal ini
3. Penulis diijinkan dan didorong untuk memposting pekerjaan mereka secara online (mis., Di repository institusional atau di situs web mereka) sebelum dan selama proses penyampaian, karena dapat menyebabkan pertukaran yang produktif, serta kutipan karya yang diterbitkan sebelumnya