PENGARUH HARGA PASAR DAN BIAYA PRODUKSI TERHADAP LABA KOTOR DENGAN VOLUME PENJUALAN SEBAGAI VARIABEL MODERATING, PADA USAHA PETERNAKAN AYAM BROILER PT. DINAMIKA MEGATAMA CITRA CABANG MOJOKERTO
A.R Indra Dekrijanti

Bambang Suroso

Joni Agus Santoso
Keywords:
Optimal Gross Profit, Sales Volume of effective, fair Market Price, and Efficient Cost Production.
Abstract
This research is an empirical study on broiler chicken farm in Nganjuk District Area, aims to prove the influence of market prices and production costs on gross profit, and proven the sales volume contribution to strengthening of the direct effect. Through such evidence will be seen also the direction and big influence on gross profit partially or simultaneously and directly or strengthened by sales volume. Changes in production costs will likely be in the opposite direction to the change in gross profit, but how the direction changes in the market price of the gross profit? As well as at what the level of the sales volume will be obtained an optimum gross profit. The things that must be answered and be a long-term goal of this research.
By knowing the direction and magnitude of the effect of market prices and production costs on gross profit that matched the volume of sales, either partially or simultaneously, is expected to provide greater benefits for company management in making strategic decisions. This study is the beginning of an effort to find harmony between the market price, the cost of production and sales volume, which results in optimal profit. To find the harmony of market prices, production costs and the sales volume, the necessary follow-up studies found an optimal contribution in generating profits.
The material of the study include the gross profit is affected by the market price and production costs to match the volume of sales. The data analyzed in this study is quantitative data obtained through documentation study and interviews. Samples were taken based on each harvest five times each year, for three years, as many as five breeder.
Findings from this study indicate that: (1) In order to avoid a negative effect on profits, management efforts to increase the prices, costs of production and sales volume, must be of equal value; (2) The sales volume can moderate the effect of production costs on gross profit, but can not moderate influence on the market price of the gross profit.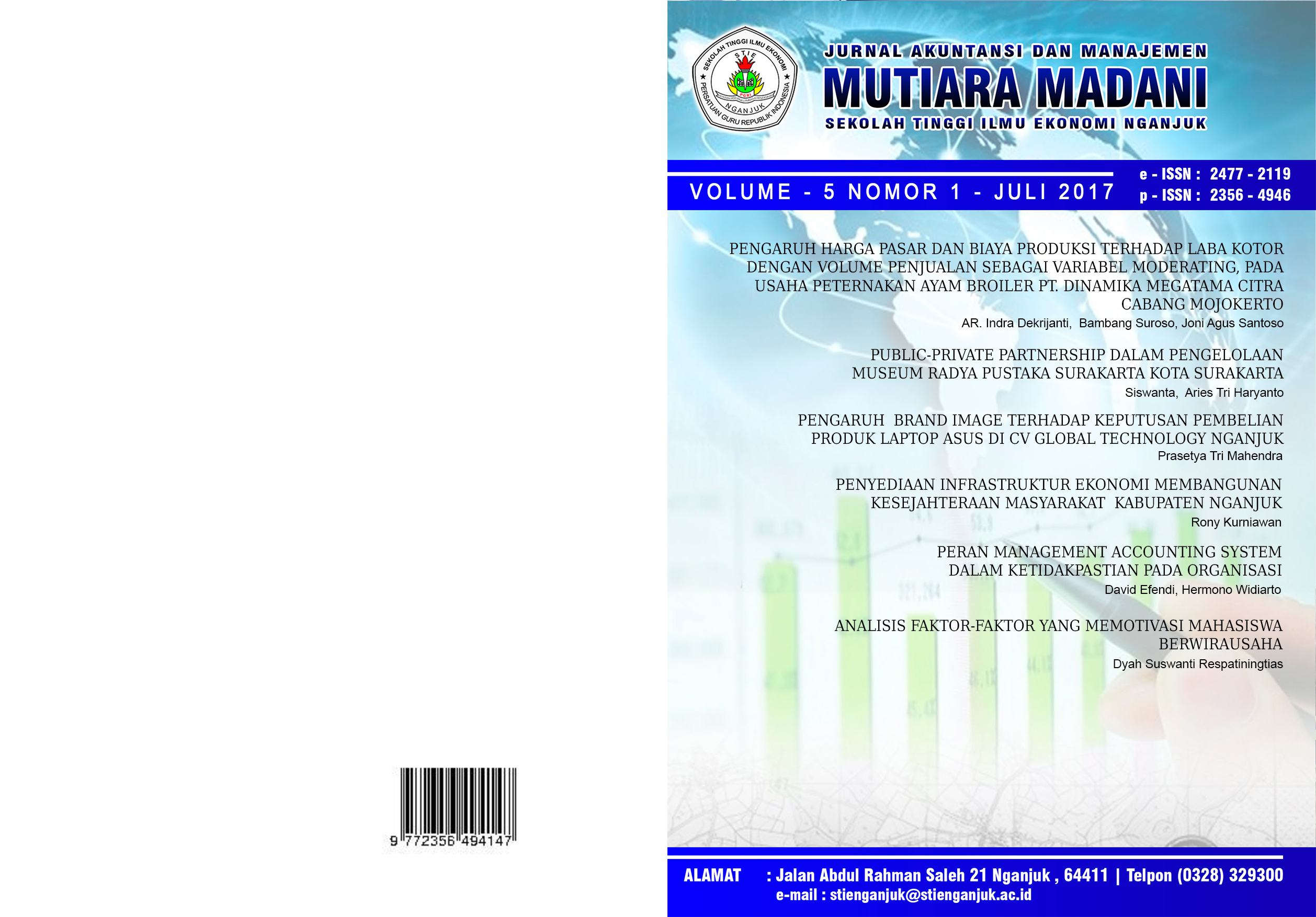 Penulis yang menerbitkan jurnal ini setuju dengan persyaratan berikut:
1. Penulis mempertahankan hak cipta dan memberikan hak jurnal tentang publikasi pertama dengan karya yang secara bersamaan dilisensikan di bawah Creative Commons Attribution License yang memungkinkan orang lain membagikan karya tersebut dengan pengakuan dari karya penulis dan publikasi awal dalam jurnal ini.
2. Penulis dapat memasukkan pengaturan kontrak tambahan yang terpisah untuk distribusi non-eksklusif dari versi terbitan jurnal tersebut (misalnya, kirimkan ke repositori institusional atau publikasikan dalam sebuah buku), dengan sebuah pengakuan atas publikasi awalnya di Jurnal ini
3. Penulis diijinkan dan didorong untuk memposting pekerjaan mereka secara online (mis., Di repository institusional atau di situs web mereka) sebelum dan selama proses penyampaian, karena dapat menyebabkan pertukaran yang produktif, serta kutipan karya yang diterbitkan sebelumnya