PENGARUH HARGA PASAR DAN BIAYA PRODUKSI TERHADAP LABA KOTOR DENGAN VOLUME PENJUALAN SEBAGAI VARIABEL MODERATING, PADA USAHA PETERNAKAN AYAM BROILER PT. DINAMIKA MEGATAMA CITRA CABANG MOJOKERTO
A.R Indra Dekrijanti

Bambang Suroso

Joni Agus Santoso
Keywords:
Optimal Gross Profit, Sales Volume of effective, fair Market Price, and Efficient Cost Production.
Abstract
This research is an empirical study on broiler chicken farm in Nganjuk District Area, aims to prove the influence of market prices and production costs on gross profit, and proven the sales volume contribution to strengthening of the direct effect. Through such evidence will be seen also the direction and big influence on gross profit partially or simultaneously and directly or strengthened by sales volume. Changes in production costs will likely be in the opposite direction to the change in gross profit, but how the direction changes in the market price of the gross profit? As well as at what the level of the sales volume will be obtained an optimum gross profit. The things that must be answered and be a long-term goal of this research.
By knowing the direction and magnitude of the effect of market prices and production costs on gross profit that matched the volume of sales, either partially or simultaneously, is expected to provide greater benefits for company management in making strategic decisions. This study is the beginning of an effort to find harmony between the market price, the cost of production and sales volume, which results in optimal profit. To find the harmony of market prices, production costs and the sales volume, the necessary follow-up studies found an optimal contribution in generating profits.
The material of the study include the gross profit is affected by the market price and production costs to match the volume of sales. The data analyzed in this study is quantitative data obtained through documentation study and interviews. Samples were taken based on each harvest five times each year, for three years, as many as five breeder.
Findings from this study indicate that: (1) In order to avoid a negative effect on profits, management efforts to increase the prices, costs of production and sales volume, must be of equal value; (2) The sales volume can moderate the effect of production costs on gross profit, but can not moderate influence on the market price of the gross profit.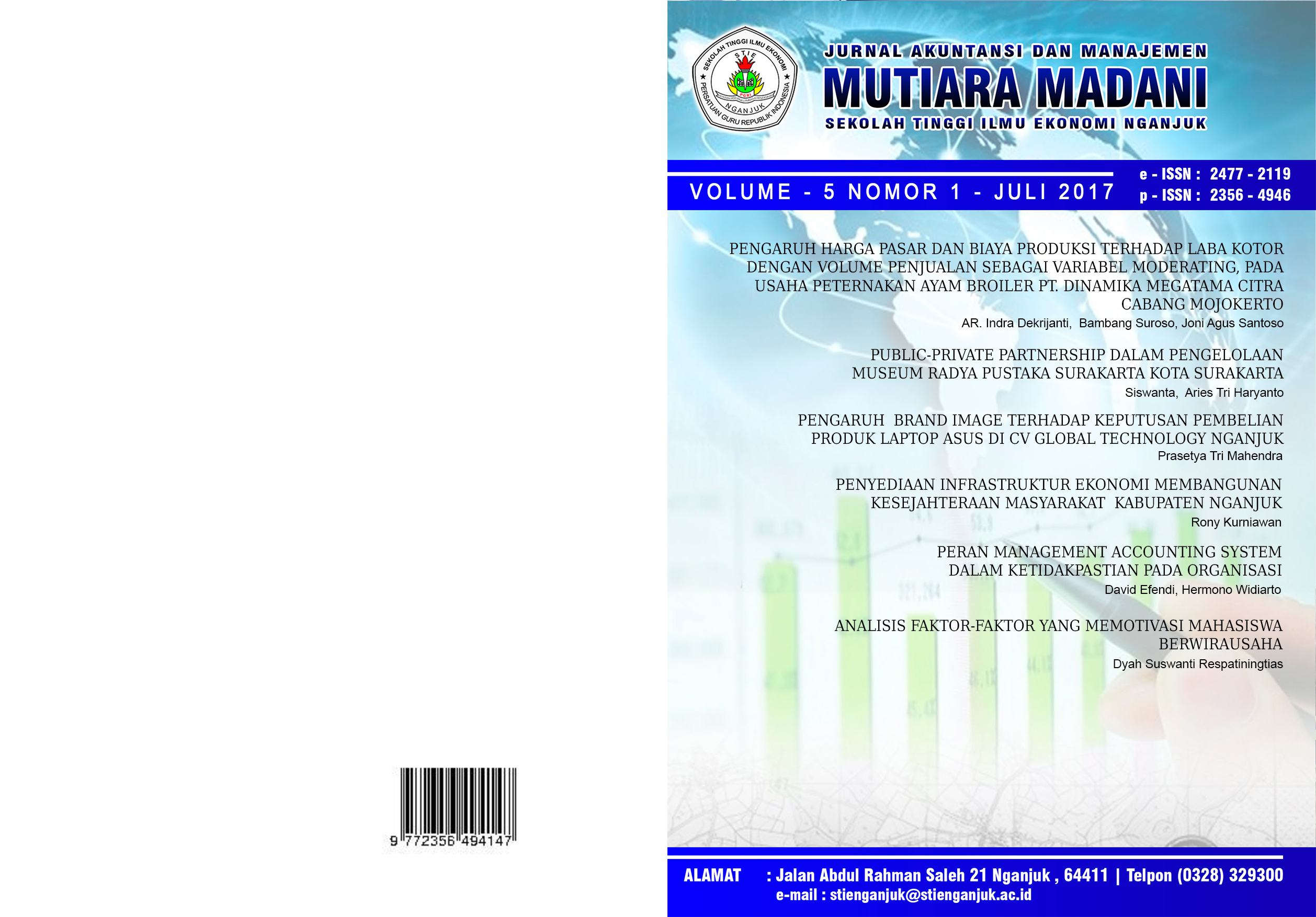 The authors who publish this journal agree to the following conditions:
1. The author retains the copyright and gives the journal rights regarding the first publication with the work being simultaneously licensed under the Creative Commons Attribution License which allows others to share the work with acknowledgment of the author's work and the initial publication in this journal.
2. The author can enter separate additional contractual arrangements for non-exclusive distribution of the published version of the journal (for example, send it to an institutional repository or publish in a book), with an acknowledgment of its initial publication in this Journal.
3. Authors are permitted and encouraged to post their work online (e.g., at an institutional repository or on their website) before and during the submission process, as this can lead to productive exchanges, as well as excerpts of previously published works