PENYEDIAAN INFRASTRUKTUR EKONOMI MEMBANGUNAN KESEJAHTERAAN MASYARAKAT KABUPATEN NGANJUK
Keywords:
Economic Infrastructure, Public Welfare, Nganjuk District
Abstract
The success of community development in improving their welfare through the size of income per capita, it can be done with the provision of economic infrastructure. As done by the Government of Nganjuk Regency managed to build the welfare of  its people through the provision of economic infrastructure, such as electrical installations, clean water customers and the existence of long paved roads. This is proven through research by using multiple logarithm regression analysis by paying attention to partial test result (t test), f test and coefficient of determination. Partial results show significant numbers and f test also shows partial numbers.
Therefore, this research answer the purpose of research to know the role and the relation of independent variable of the number of electricity subscribers (X1), the amount of water product of PDAM Nganjuk (X2) and the length of the road with good condition (X3) with the dependent variable of community welfare in this case income per capita society Nganjuk (Y).
This study uses saturated sample data or all time series data from 2001-2014) obtained by research from the Central Bureau of Statistics (BPS) of Nganjuk Regency. Researchers use Eview's data version 8 to get statistical value so that this research can be done in accordance with the purpose of research.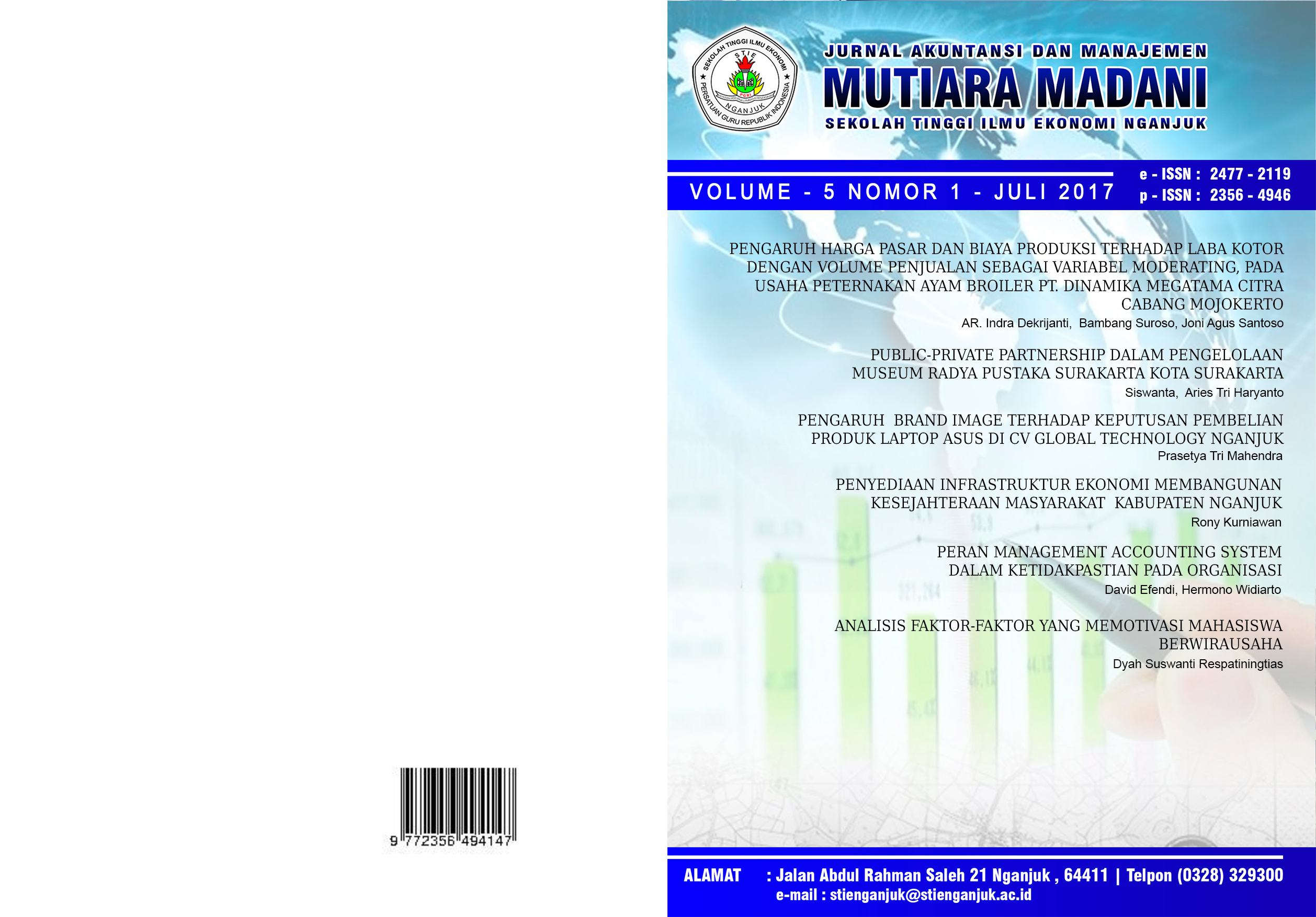 Penulis yang menerbitkan jurnal ini setuju dengan persyaratan berikut:
1. Penulis mempertahankan hak cipta dan memberikan hak jurnal tentang publikasi pertama dengan karya yang secara bersamaan dilisensikan di bawah Creative Commons Attribution License yang memungkinkan orang lain membagikan karya tersebut dengan pengakuan dari karya penulis dan publikasi awal dalam jurnal ini.
2. Penulis dapat memasukkan pengaturan kontrak tambahan yang terpisah untuk distribusi non-eksklusif dari versi terbitan jurnal tersebut (misalnya, kirimkan ke repositori institusional atau publikasikan dalam sebuah buku), dengan sebuah pengakuan atas publikasi awalnya di Jurnal ini
3. Penulis diijinkan dan didorong untuk memposting pekerjaan mereka secara online (mis., Di repository institusional atau di situs web mereka) sebelum dan selama proses penyampaian, karena dapat menyebabkan pertukaran yang produktif, serta kutipan karya yang diterbitkan sebelumnya